Merry Christmas Everyone!
Submitted by bethdirt on Thu, 12/27/2007 - 12:17.
 I have had a wonderful festive season full of entertaining and feeding the people I love. I am truly blessed in good friends and family. So far I have hosted 3 Chanukah parties, 2 lunches, and last night's Christmas Eve celebrations. It has strained every dish and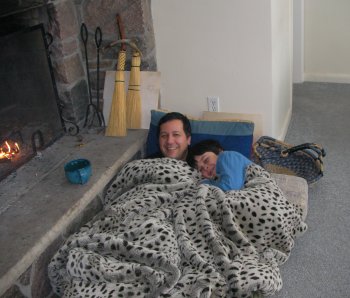 bowl in the house, and left me exhaustedly happy.
I know I have been remiss about writing on more gardening and plant related topics, and I think it is a direct reflection of hibernation. I am feeling in love with being able to see my friends and really be able to talk to themwith out this little voice inside of my head saying "oh &*%$! Iforgot to call _____! hhhmmmm should I get the yellow or orangeDahlias for Louise?I am sorry what was it that you were saying?"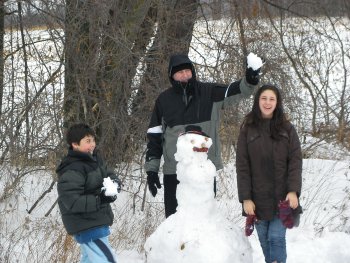 After working 24/7 for the last 8 months I am just enjoying the simple worries in life, like what rights do armless snowmen have? And do 8 year old boys really know how to stop themselves when you say STOP in a snow ball fight?
Last year I started a tradition of hosting Orphan's Christmas Eve Dinner. Which was a lot of fun. If you are Jewish Muslim, Buddhist, far from home or just annoyed that everything is closed...come and have dinner with us!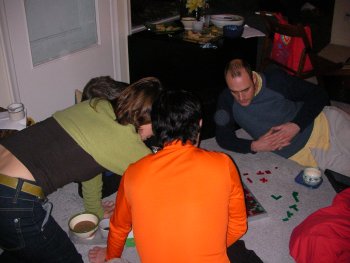 This year Gary made Toad in the Hole with organic lamb and beef sausages. We listened to Dave Cooks the Turkey from the Vinyl cafe Christmas collection and sang Christmas carols. We were all pretty  impressed when my mother could recite O Come All Ye Faithful in Latin, which she learned in High School! Michael Holt and Hose also played for us their own original songs. I rocked out to the Transiberian Orchestra's Ring Silver Bells and Straight No Chaser's 3 1/2 minute video of the 12 Days of Christmas, which is hilarious. Late into the evening we played Blokus, and talked about our lives by the fire.
  From the time I was young I could remember my Rabbi's voice at Passover saying "Let all who are hungry, come and eat!" I still believe the real meaning of these words isn't just referringto actual hunger, but the hunger to be with people at special times.
I hope that all of your celebrations were special too. I wish for you a year of growing and eating beautiful food, no infestations of Asian Long horned Beetle and lots of happy memories.
Happy New Year!
Beth