Heavenly Hellebores
Submitted by bethdirt on Sat, 04/07/2007 - 15:18.
A few days ago we were cleaning up in a customer's garden, before the temperatures plummeted. We were taking "stalk" of all that needed to get done this year, and as I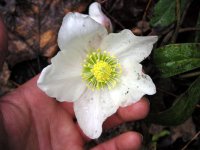 looked down I noticed these little guys. Well aren't they just the little harbingers of Spring? Hellebores are the first perennials of the season to bloom, and I am always amazed that they can survive the really cold nights of early Spring. I can't tell you where she is hiding, cause she is in a back yard, and that would just be too difficult to explain to my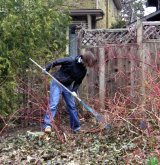 customer what you were all doing back there!