Sweet Scilla
Submitted by bethdirt on Wed, 04/18/2007 - 22:07.
Hello there
We have been cleaning gardens in earnest these past few dasy as the temperatures are slowly rising. Today, we saw the sun shine! We all stopped to eat humus and carrots to celebrate!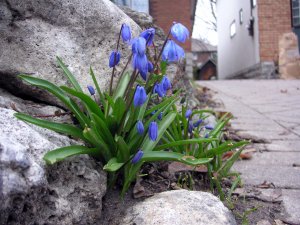 On Cranbrooke ave between Yonge St. and Ave Rd. there are some really sweet scilla popping through the ground in a lovely rock garden that I had to capture.
Although these specimens are in small confined clumps the most impressive displays are on Spadina Rd, just south of St. Clair. just before Casa Loma. The entire lawn next to the sidewalk on the east side is covered with them. I'll get a picture in the next few days.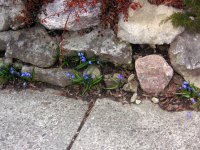 Ok this is an update. Temperatures in the Toronto area are now soaring. Today, one of my employees got a sunburn on the back of his neck! He went from wearing a winter hat to having a sun burn in the same week! Everything is exploding, plants that have waiting patiently for it ot warm up are going ballistic and popping out all over the place. It is so glorious. I will be out there with my camera to capture it.
Happy Earth Day everyone!